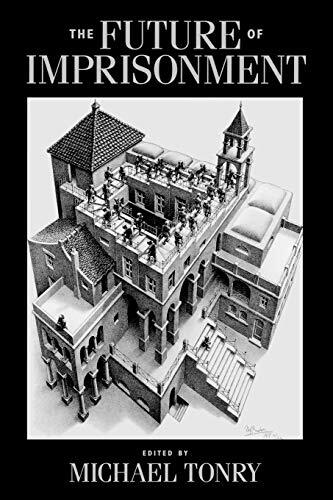 Price: 28.80 GBP
The Future of Imprisonment by Michael Tonry New Book




Have a Question? Get in touch today!
Contact Us
The Future of Imprisonment
Publisher : Oxford University Press; Illustrated edition (22 July 2006)
Language : English
Paperback : 276 pages
ISBN-10 : 0195314107
ISBN-13 : 978-0195314106
Dimensions : 15.24 x 1.6 x 22.86 cm

The imprisonment rate in America has grown by a factor of five since 1972. In that time punishment policies have toughened compassion for prisoners has diminished and prisons have gotten worse-a stark contrast to the origins of the prison 200 years ago as a humanitarian reform a substitute for capital and corporal punishment and banishment. So what went wrong How can prisons be made simultaneously more effective and more humane Who should be sent there in the first place What should happen to them while they are inside When how and under what conditions should they be released The Future of Imprisonment unites some of the leading prisons and penal policy scholars of our time to address these fundamental questions. Inspired by the work of Norval Morris the contributors look back to the past twenty-five years of penal policy in an effort to look forward to the prisons twenty-first century future. Their essays examine the effects of current high levels of imprisonment on urban neighborhoods and the people who live in them. They reveal how current policies came to be as they are and explain the theories of punishment that guide imprisonment decisions. Finally the contributors argue for the strategic importance of controls on punishment including imprisonment as a limit on government power; chart the rise and fall of efforts to improve conditions inside; analyze the theory and practice of prison release; and evaluate the tricky science of predicting and preventing recidivism. A definitive guide to imprisonment policies for the future this volume convincingly demonstrates how we can prevent crime more effectively at lower economic and human cost. Read more
Books
Browse
DVDs
Browse
Music
Browse
Audio Books
Browse
Shipping
Your item usually posted within a day. Delivery is by Royal Mail or courier and is likely to take a further 1-3 working days, so please allow at least a week before contacting us.
Terms & Conditions – Please Read Before Buying
If you buy from us you must agree to the following conditions
Please be advised, we can only ship to the address you enter at checkout stage. Please make sure this is correct as we use automated dispatch systems, so will not be able pickup change of address messages. Also please note that because orders are automatically processed within minutes they cannot be cancelled. But you are welcome to return once you receive the item.
Please be aware that multiple orders will generally be sent separately. This is to ensure you receive each item as speedily as possible.
Communication is everything; please let us know immediately if at any time you have any problems or concerns. Before leaving poor feedback please give us the opportunity to put things right.
Please always contact us through eBay and not via our email address.
Please be advised that our inventory is held in several Amazon FBA fulfillment and Gardner books Wholesale Fulfillment centres around the country, thus the item may arrive in the suppliers/fulfillment centre branded packaging. By bidding on, or purchasing this item, you are agreeing to us sharing your name and address details with that 3rd party supplier to allow us to fulfil our contractual obligations to you.
Our Pledge To You
We are professional Media sellers, we offer a guarantee for all our customers. Buy now and we will give you a 30 day no quibble satisfaction guarantee. what we mean by this is that if you are not satisfied with your product that is if it comes damaged or you are not happy with what you have received, then please let us know. A full refund will be given to you on the product cost.