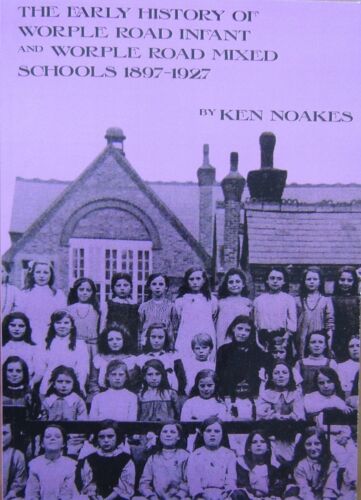 Price: 8.95 GBP
THE EARLY HISTORY OF WORPLE ROAD INFANT & WORPLE ROAD MIXED SCHOOLS 1897-1927




THE EARLY HISTORY OF WORPLE ROAD INFANT SCHOOL
&
WORPLE ROAD MIXED SCHOOL 1897-1927
BY KEN NOAKES
A companion book to Working at Worple which covered 1928-1975, this book describes how the schools came into being at the end of the 19th century on a market garden site in Isleworth. The colour of the cover – heliotrope – was the colour of the shirts Worple competed in in those early days. Inter-school sport flourished with Worple becoming Tug of War champions at District Sports in 1921. Mr Lugg, the first Head of the Mixed Schools (pupils up to 13) was captain of Brentford F.C. before they became a professional club. 
There are extracts from Mr Lugg's Little Black Book, his punishment log for the years 1918-27 which gives a fascinating insight into how discipline was maintained – usually by corporal punishment.
Ken can be
contacted at [email removed by eBay].

Review of The Early History of Worple Road Infant & Worple Road
Mixed Schools 1897-1927
By Phil Andrews, best-selling author of The Best Year Of Our
Lives and 1000 Memories of 1976.
In this well-written and deliberately dispassionate account of Worple
life between the tail end of the nineteenth century and the inter-war period,
my old teacher and friend Ken Noakes succeeded in taking this much more recent
ex-pupil back into the classroom in a way which at times made me feel I had
actually been there.  
 QUEEN VICTORIA'S DIAMOND JUBILEE  
 The scene is set with a reminder that
1897 is Queen Victoria's Diamond Jubilee year and, needless to say, for the
children who were to become the first pupils at the brand new Worple Road
Infant School in Isleworth this was an occasion like not many other. On March
1st of that year, they took up their places at the school, resplendent as it
was with all the latest technology in the form of gas lamps and coal fires.  
 
From this point onwards the booklet is a fascinating chronology of the
school and its development over the ensuing three decades, heavily fortified by
illustrations from the archives and quotations from school and local authority
documents. Throughout this process we are regularly updated in respect of the
sundry key appointments, including (of course) head teachers as well as other
members of staff who were to play a role of what was to become some historic
significance.  
 
AN INVALUABLE RESOURCE                                                                                                                                                                                   As with any good narrative
of its kind, it is difficult to single out individual entries as being of
special interest without doing an injustice to the others. This 115-page
printed A4 booklet, after all, serves as an invaluable resource for the local
historian as well as for the casual nostalgic in every single page of its
being.  
 
Nevertheless, if only by
way of a taster there are a few pieces which serve in particular to remind us
of how the culture of our schools, our education system and our society in
general has changed since the days in which the work is set. In 1905, for
instance, much emphasis was placed upon ensuring that girl pupils were taught
the art of being a good housewife, able to knit a pair of gentleman's socks,
employ a hemstitch and create a gusset. During the First World War rationing
was introduced, first on a voluntary basis but later as a matter of law, and
the threat of air raids (usually associated in the public mind with World War
Two) had become a reality. Pupils at Worple were given their first air raid
drill on 23rd July 1917, and subsequent alarms and sometimes false alarms were
to play havoc with school attendance figures.