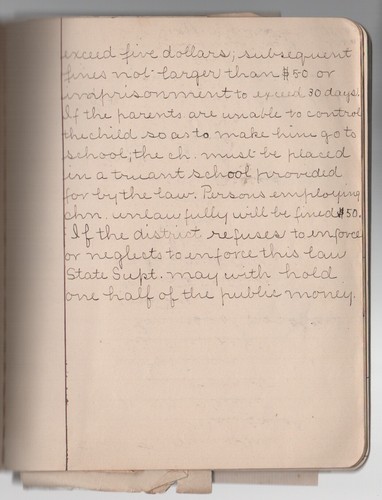 Price: 223.38 GBP
Teacher's Education / SCHOOL LAW Cover Title 1890s Teaching Notebook 1897




SCHOOL LAW [Cover Title, 1890s Teaching Notebook]
[circa 1897]
Detailed student notes, apparently from a teacher's training course, on the laws governing education in New York state in the late 1890s, with briefer sections of notes on the geology and geography of New York; one page is dated 1897.
Very good.
Includes sections on Corporal Punishment ("If a teacher wishes to punish a child she may do it without the parents' consent. Parents or teacher may be arrested for undue severity. Cicero said, "Do not punish in anger"); the Compulsory Education Law and the authority of truant officers ("The law provides that parents may be fined or imprisoned or both"); and the "Physiology Law" requiring that "physiology relating to alcoholic drinks and other narcotics and their effects on the human system shall be taught yearly in all grades in the public schools").
In addition to assorted notes, practice tests, and copied poems, a printed page from the December 12, 1891 School Journal is laid in, including several sample lesson preparations and "Suggestions to Teachers" on narcotics and stimulants: "There is a general feeling on the part of the little ones under your charge that the use of alcoholic liquors is wrong…To prove to them that its use is deleterious to the mind and body is a hard thing for you to do. They must take this on faith and you are to be the faith-builder for the little ones."
The name of the notebook's author and owner appears in a list of 1900 Normal School graduates in Suffolk County, issued as part of the annual New York State Superintendent's Report: Esther Alice Andrews of Patten's Mills successfully completed the English Course. A fascinating look at turn-of-the-century teacher's education.
[New York State]: [circa 1897]. Wraps. 8vo. Cardstock covers, cloth taped spine. Edgewear and creasing to covers; cloth tape torn at ends. Author's name and the title "School Law" written in pen on front cover. Commercial ruled notebook, about two-thirds filled with handwritten notes in pencil and pen. Approximately 20 loose handwritten sheets folded and laid in, along with one printed page. Toning throughout; some blank pages entirely or partially torn out.
This listing was created by Bibliopolis.