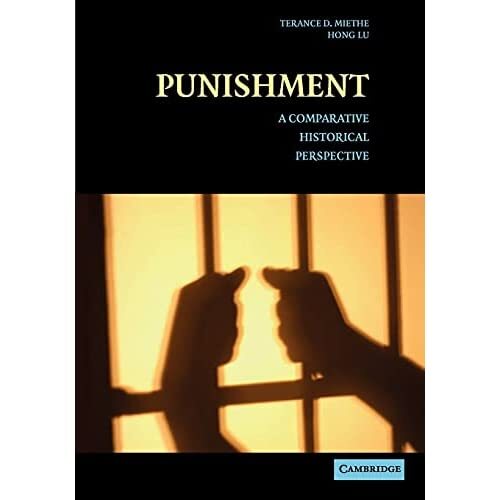 Price: 19.59 GBP
Punishment: A Comparative Historical Perspective by Terance Miethe 9780521605168




Punishment: A Comparative Historical Perspective
Terance Miethe
Cambridge University Press
Paperback
Unused and unread, minor cosmetic imperfections such as scuffing or minor creasing. Stamped 'damaged' by publisher to a non-text page.
EAN: 9780521605168
Published: 03/02/2005
Language: English
Punishment is the common response to crime and deviance in all societies. However, its particular form and purpose are also linked to specific features of the structure of these societies at a particular time and place. Through a comparative historical analysis of punishment, this 2005 book is designed to identify and examine the sources of similarity and differences in types of economic punishments, incapacitation devices and structures, and lethal and non-lethal forms of corporal punishment over time and place. We will look closely at punishment responses to crime and deviance across different regions of the world and in specific countries like the United States, China, and Saudi Arabia. It is hoped that the reader will gain an appreciation for both the universal and context-specific nature of punishment and its use for purposes of social control, social change, and the elimination of threat to the prevailing authorities.
List of figures
List of tables
Preface and acknowledgements
1. Introduction
the punishment response
2. Punishment philosophies and types of sanctions
3. Contemporary punishments in comparative perspective
4. Punishment in American history
5. The history of punishment in China
6. Punishment under Islamic law
7. Issues in the sociology of punishments.
Dispatch
In stock here – same-day dispatch from England. My SKU: 3288245
Refunds
No-hassle refunds are always available if your book is not as expected.
Terms and Conditions of Sale
Sorry – no collections. All sales are subject to extended Terms and Conditions of Sale as well as the Return Policy and Payment Instructions. Visit my eBay Store for details andmany more books. Template layout and design, "JNC Academic Books", "needbooks", Copyright © JNC INC. Designated trademarks, layouts and brands are the property of their respective owners. All Rights Reserved.