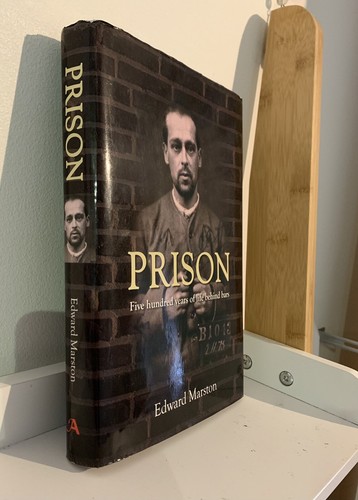 Price: 9.97 GBP
Prison: Five Hundred Years of Life Behind Bars by Edward Marston (Hardcover, 200




The available book is in very good, clean condition and is free of any highlighting and pen marks. 
The book comes from a smoke-free home and every book is sanitized before it is dispatched. 
Please view the attached images. With Karmaminds, what you see is what you get. 
Free delivery is included with the price of the book. 
We appreciate you taking the time out of your busy schedule to view one of our items. If you have any questions, then please feel free to contact us. Please feel free to browse through our other available items.
This compelling history of our most feared institution charts the growth of the national prison system in England and Wales, from castle dungeon to purpose-built concrete jail. Supported by unique material from The National Archives, it looks at aspects of prison life that stayed constant for centuries: loss of liberty, privacy and comfort; hard labour; restricted rations; solitary confinement; corporal punishment and execution – and describes key developments like Jeremy Bentham's panopticon, the Victorian spate of prison-building, and successive reform acts. Famous prisons from Newgate to Pentonville are depicted, as well as the curiosities, abuses and scandals that occurred within their walls, from the racking of Henry VIII's enemies to the force-feeding of suffragettes centuries later. At the heart of the book are dramatic stories of the men and women who lived or died behind bars. These include political prisoners like Lady Jane Grey, celebrities like Oscar Wilde, wartime convicts, suffragettes, cult criminals like the Krays and 'ordinary' prisoners like armed robber Hames Edward Spiers, who in 1930 committed suicide at Wandsworth Gaol in front of a group of JPs gathered to see him receive 15 lashes. There are also fascinating accounts of officers, governors and executioners as well as reformers like John Howard and Elizabeth Fry – the law-abiding who nonetheless spent their lives looking 'inside'. Contents: Introduction 1. The Tower and Local Gaols 2. The State of 18th-century Prisons 3. Rat-infested Prison Hulks 4. A Most Victorian Zeal 5. No Place for a Woman 6. Suffragettes and the 20th Century 7. The Prisoners of Two Wars 8. The Last Executions Conclusion Sources and Reading Index