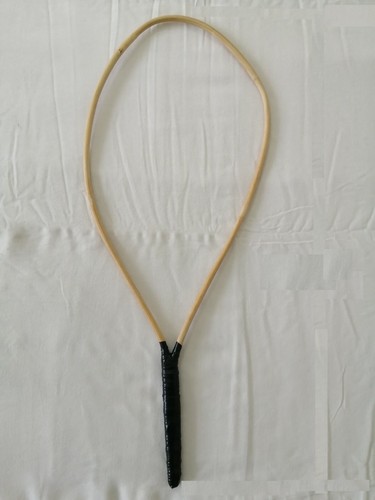 Price: 15.05 GBP
HEADMISTRESS PREMIUM RATTAN PUNISHMENT CANE BIG 20 CM WIDTH CROOK 50 CM LONG




WELCOME TO johns_multi_boutique
---
HEADMISTRESS PREMIUM RATTAN PUNISHMENT CANE BIG 20 CM WIDTH CROOK 50 CM LONG
RATTAN also known as alamus rotang, is a plant species native to Sri Lanka, India and Myanmar (Burma). It is one of the scandent (climbing) rattan palms used to make Malacca cane furniture, Punishment Cane sticks, baskets, walking-sticks, umbrellas, tables and general wickerwork, and is found in Southwest Asia. The basal section of the plant grows vertically for 10 metres or so, after which the slender, tough stem of a few centimeters in diameter, grows horizontally for 200 metres or more. It is extremely flexible and uniform in thickness, and frequently has sheaths and petioles armed with backward-facing spines which enable it to scramble over other plants.
The plants are dioecious, and flowers are clustered in attractive inflorescences, enclosed by spiny spathes. The edible fruits are top-shaped, covered in shiny, reddish-brown imbricate scales, and exude an astringent red resin known medicinally and commercially as "dragon's blood".
The canes are sought-after and expensive, but have to a large extent been replaced by sticks made from plants, such as bamboos, rushes and osier willows.
How to make canes for making goods
Since the canes grow in water, the water should be removed after cutting the canes. If the water in the canes is not removed, it will not bend properly. Drain the canes and keep them straight for about a week. The canes should be bent after the water is well-drained by that process.
Rattan (Wewal)-(sri lankan name) Products Last For Up To 15 Years Or More.
The rattan-cane or stick which is known as wewala in Sinhala was used in households to intimidate children. 
Although it is a rarity to see one of those in modern households and schools, surprisingly the infamous wewala is still being sold.
Cane Creations Of Sri Lanka
The economy of Sri Lanka is one that is sustained by a number of different cottage industries. Among these, the cane industry is quite important. It has provided livelihood to a number of locals living in different parts of the country for many long years.
The skill of bending the pliable cane into eco-friendly furniture and utensils is an ancient one, passed down the generations in certain villagers in Sri Lanka, especially in the east of the Island. Due to the growth in plastic and fibre goods, however, it is now a fast disappearing industry. In Manampitiya, like most places in the Polonnaruwa district, sourcing raw material for the cane industry used to be a popular source of income. Until the more lucrative business of supplying raw materials for the construction industry took off, that is.
Specifications & Features
Condition: New
Nature Friendly: 100% Natural cane wood
Handle: Crook Type
Use: Punishment / Play / Decortaions
Modified Item: No
Country/Region of Manufacture: Sri Lanka
Original/Reproduction: Original
Year: 2021
Signed: This is a hand made piece
Length: 50 CM
Crook Width: 20 CM
Material: Rattan (Cane Stick)
Made: 100% Hand Made
Durability: Last Long over 15 years
Payment
We accept Managed Payments.
Shipping
We offer FREE ECONOMY SHIPPING. 
International buyers please note:
Import duties, taxes and charges are not included in the item price or shipping charges. These charges are the buyer's responsibility. We will try our best to reduce the risk of the custom duties.
Handling Time
Handling time 1 Business day. We will pack and ship all items within 1 Business day.
Customer Care
Hi my dear valued customers, if you have anything to get clarified about the item you may contact me over the messages and i will promptly answer all your questions and will clear all your doubts. 

You are buying a 100% quality product in brand new condition.

If you have any issues with the product, please I urge you to contact me over messages without leaving a ( – )  Negative or Neutral feedback.

I would like to request you to leave me a ( + ) POSITIVE FEEDBACK as a token of appreciation.
Returns and Refund
Returns are accepted and will pay the refund, if its broken when received  or if the item is not as per the specified pictures and details only. 
YOU MAY SEE MY OTHER PRODUCTS IN HERE 
KIBS MENS GENTS VEST UNDERWEAR T-SHIRT 100% COTTON TOP THERMAL HEAT COLD WHITE
=> => => CLICK HERE <= <= <=
New Women Ladies Girl Casual Short Sleeve Crop Top T-Shirt – Vest V&O Neck S-5XL
=> => => CLICK HERE <= <= <=
Mens Gents T-Shirt Lacoste Crocodile Cotton Collar Neck Embroider Logo M – XL
=> => => CLICK HERE <= <= <=
REVLON ULTRA HD MATTE LIP COLOR LIPSTICK – Choose Your Shade – 5.9ml -New Sealed
=> => => CLICK HERE <= <= <=
Shipping Countries
( Only to below countries are shipped due to low flights with this current world's pandemic situation )