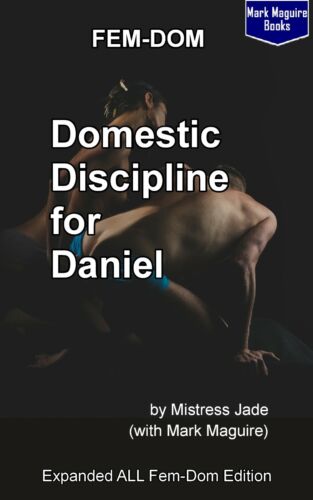 Price: 8.99 GBP
Domestic Discipline for Daniel (Paperback)




No! Please Miss! It HURTS TOO MUCH Miss!"
"It's for your own good, Daniel, so stick that bottom UP!"
When handsome, new shop assistant Daniel is rude and obnoxious to a valued customer, he discovers the painful way to learn to be polite – through the indignity of hard, regular spankings and canings applied to his upturned bare bottom. The irate customer, attractive, sexy Olivia Hamilton, is expert at severe and humiliating corporal punishment for misbehaving adults. It's so embarrassing and it hurts so much – but soon Daniel's fear and dread of the cane turns to acceptance, and finally a real craving for more and more imaginative discipline, which his new Mistress is only too keen to give.
Sometimes Daniel's punishments are administered in front of enthusiastic witnesses, and to add even more to his distress and embarrassment, Olivia's niece Laura also discovers he is under her aunt's extremely strict regime.
Read vivid descriptions of Daniel's increasing torments as his bare, exposed buttocks writhe and flinch under the excruciating sting of the cruel cane brought down HARD on the most sensitive parts of his bottom, over and over again. He is reduced to begging and pleading for it to stop, but Olivia well knows that regular good, old-fashioned, traditional canings, combined with prolonged bare bottom spankings, always brings about a change in behaviour.
This complete, highly erotic corporal punishment novel is for adults only (over 18s) and contains strong, graphic descriptions of humiliating, naked adult discipline, together with strong sexual scenes.
BRAND NEW CONDITION