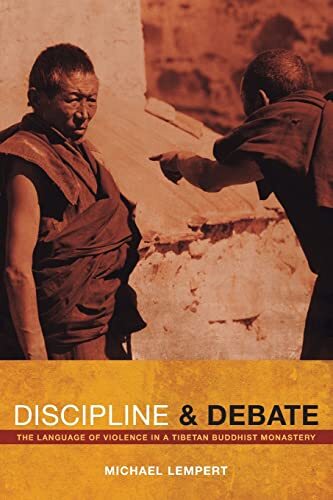 Price: 34.50 GBP
Discipline and Debate: The Language of Violence in by Mich Xe6l Lempert New Book




Have a Question? Get in touch today!
Contact Us
Discipline and Debate: The Language of Violence in a Tibetan Buddhist Monastery
Publisher : University of California Press (30 April 2012)
Language : English
Paperback : 238 pages
ISBN-10 : 0520269470
ISBN-13 : 978-0520269477
Dimensions : 15.24 x 1.78 x 22.86 cm
4009 in Tibetan Buddhism
5862 in Teaching Aids for Geography
11743 in Philosophy of Buddhism

The Dalai Lama has represented Buddhism as a religion of non-violence compassion and world peace but this does not reflect how monks learn their vocation. This book shows how monasteries use harsh methods to make monks of men and how this tradition is changing as modernist reformers-like the Dalai Lama-adopt liberal and democratic ideals such as natural rights and individual autonomy. In the first in-depth account of disciplinary practices at a Tibetan monastery in India Michael Lempert looks closely at everyday education rites-from debate to reprimand and corporal punishment. His analysis explores how the idioms of violence inscribed in these socialization rites help produce educated moral persons but in ways that trouble Tibetans who aspire to modernity. Bringing the study of language and social interaction to our understanding of Buddhism for the first time Lempert shows and why liberal ideals are being acted out by monks in India offering a provocative alternative view of liberalism as a globalizing discourse. Read more
Books
Browse
DVDs
Browse
Music
Browse
Audio Books
Browse
Shipping
Your item usually posted within a day. Delivery is by Royal Mail or courier and is likely to take a further 1-3 working days, so please allow at least a week before contacting us.
Terms & Conditions – Please Read Before Buying
If you buy from us you must agree to the following conditions
Please be advised, we can only ship to the address you enter at checkout stage. Please make sure this is correct as we use automated dispatch systems, so will not be able pickup change of address messages. Also please note that because orders are automatically processed within minutes they cannot be cancelled. But you are welcome to return once you receive the item.
Please be aware that multiple orders will generally be sent separately. This is to ensure you receive each item as speedily as possible.
Communication is everything; please let us know immediately if at any time you have any problems or concerns. Before leaving poor feedback please give us the opportunity to put things right.
Please always contact us through eBay and not via our email address.
Please be advised that our inventory is held in several Amazon FBA fulfillment and Gardner books Wholesale Fulfillment centres around the country, thus the item may arrive in the suppliers/fulfillment centre branded packaging. By bidding on, or purchasing this item, you are agreeing to us sharing your name and address details with that 3rd party supplier to allow us to fulfil our contractual obligations to you.
Our Pledge To You
We are professional Media sellers, we offer a guarantee for all our customers. Buy now and we will give you a 30 day no quibble satisfaction guarantee. what we mean by this is that if you are not satisfied with your product that is if it comes damaged or you are not happy with what you have received, then please let us know. A full refund will be given to you on the product cost.