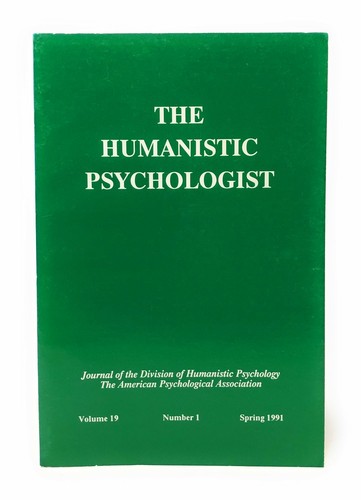 Price: 17.87 GBP
Christopher Aanstoos / Humanistic Psychologist Volume 19 Number 1 Spring 1991




The Humanistic Psychologist Volume 19 Number 1 Spring 1991
Author: Aanstoos, Christopher (editor)
Title: The Humanistic Psychologist Volume 19 Number 1 Spring 1991
Publication: Carrollton, GA: Division 32 of the American Psychological Association, 1991
Description: Paperback. 9″ x 6″. Mild shelf wear.
Features the following articles:
Outcomes of an Existential-Humanistic Psychotherapy: A Tribute to Rollo May by James F.T. Bugental
Complex Knowing: Toward a Psychological Hermeneutics by Robert D. Romanyshyn
Corporal Punishment in the Public Schools by Adah Maurer
The Adolescent First Kiss by Richard Alapack
Paradox and Health by Kirk J. Schneider
Vive le Difference! Luce Irigaray's Interrogatory Alterity by Marsha Hammond
The Humanistic Paradigm in Education by Roy Jose DeCarvalho
In Memoriam of Laura Perls
Reviews and Comments:
Spiritual Emergency: When Personal Transformation Becomes a Crisis (by Stanislov and Christina Grof) by Sarah Dubin-Vaughn
Drugs, Addiction, and Initiation: The Modern Search for Ritual (by Luigi Zoja) by David Polizzi
A History of Private Life: From Pagan Rome to Byzantium (by Phillipe Aries and Georges Duby) by Kareen Ror Malone
Does the End Justify the Means by Jeffrey A. Kottler. Very good.
Seller ID: 5987
Subject: Psychology
This listing was created by Bibliopolis.