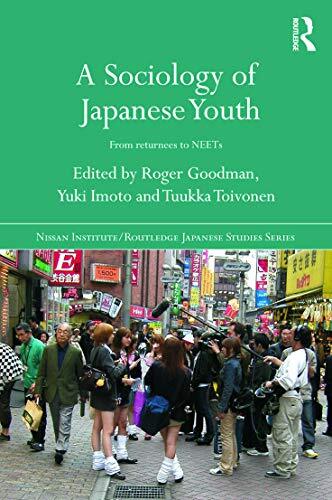 Price: 50.91 GBP
A Sociology of Japanese Youth: From Returnees to NEETs by Roger Goodman New Book




Have a Question? Get in touch today!
Contact Us
A Sociology of Japanese Youth: From Returnees to NEETs (Nissan Institute/Routledge Japanese Studies)
Publisher : Routledge; 1st edition (28 Nov. 2011)
Language : English
Paperback : 216 pages
ISBN-10 : 0415669278
ISBN-13 : 978-0415669276
Dimensions : 15.6 x 1.24 x 23.39 cm
1345 in Asian & Asian Descent Studies
10545 in Ethnography & Ethnology
20522 in Multicultural Studies

Over the past thirty years whilst Japan has produced a diverse set of youth cultures which have had a major impact on popular culture across the globe it has also developed a succession of youth problems which have led to major concerns within the country itself. Drawing on detailed empirical fieldwork the authors of this volume set these issues in a clearly articulated social constructionist framework and put forth a sociology of Japanese youth problems which argues that there is a certain predictability about the way in which these problems are discovered defined and dealt with.The chapters i nclud e case studies covering issues such as:Returnee children (kikokushijo)Compensated dating (enjo ksai)Corporal punishment (taibatsu)Bullying (ijime)Child abuse (jid gyakutai)The withdrawn youth (hikikomori) andNEETs (not in education employment or training)By examining these various social problems collectively A Sociology of Japanese Youth explains why particular youth problems appeared when they did and what lessons they can provide for the study of youth problems in other societies.This book will be of huge interest to students and scholars of Japanese society and culture the sociology of Japan Japanese anthropology and the comparative sociology of youth studies. Read more
Books
Browse
DVDs
Browse
Music
Browse
Audio Books
Browse
Shipping
Your item usually posted within a day. Delivery is by Royal Mail or courier and is likely to take a further 1-3 working days, so please allow at least a week before contacting us.
Terms & Conditions – Please Read Before Buying
If you buy from us you must agree to the following conditions
Please be advised, we can only ship to the address you enter at checkout stage. Please make sure this is correct as we use automated dispatch systems, so will not be able pickup change of address messages. Also please note that because orders are automatically processed within minutes they cannot be cancelled. But you are welcome to return once you receive the item.
Please be aware that multiple orders will generally be sent separately. This is to ensure you receive each item as speedily as possible.
Communication is everything; please let us know immediately if at any time you have any problems or concerns. Before leaving poor feedback please give us the opportunity to put things right.
Please always contact us through eBay and not via our email address.
Please be advised that our inventory is held in several Amazon FBA fulfillment and Gardner books Wholesale Fulfillment centres around the country, thus the item may arrive in the suppliers/fulfillment centre branded packaging. By bidding on, or purchasing this item, you are agreeing to us sharing your name and address details with that 3rd party supplier to allow us to fulfil our contractual obligations to you.
Our Pledge To You
We are professional Media sellers, we offer a guarantee for all our customers. Buy now and we will give you a 30 day no quibble satisfaction guarantee. what we mean by this is that if you are not satisfied with your product that is if it comes damaged or you are not happy with what you have received, then please let us know. A full refund will be given to you on the product cost.